Donald Insall Associates
Moseley Road Baths, which opened in 1907, is more than just a place for swimming; it's a testament to the long-standing commitment to preservation for the communities it serves in Balsall Heath and the surrounding areas.
Central to our restoration journey in realising our ambitious plans are Donald Insall Associates, a distinguished AJ100 architectural practice with an impressive track record spanning over 60 years in historic building conservation. Their portfolio includes renowned projects such as the 'Palace of Westminster Conservation Plan', 'Women's Suffrage Memorial in Parliament Square', and most recently, 'Mosul Museum in Iraq'. They are the architects behind the successful restoration of our Gala pool roof in 2020 and the 'Manager's Flat' in 2022. Currently, they are leading us into phase 1 of the building works, which commences this October 2023 and is scheduled for completion in Spring 2025. It is their dedication to preserving our historic environment that makes them instrumental in our future design and function.
Our collaboration with Donald Insall Associates began with the restoration of our Gala pool roof in 2018, made possible through generous grants totalling £715K from coalition partners Historic England and £100K from Birmingham City Council. These funds enabled us to undertake crucial repairs to the Gala pool roof, which had been closed for safety reasons in August 2003. Donald Insall Associates conducted the restoration, encompassing vital conservation work and targeted repairs, including the cast-iron structure, terracotta, and glazed brickwork. Their visionary approach also included the development of facilities to support meanwhile uses, including kitchen, WCs, and fire detection and alarm systems, allowing our empty pool to serve as a versatile event space.
Since its grand reopening in March 2020, the Gala Pool space has hosted over 80 local and national organisations and is home to over 15 weekly sessions. It has been transformed into a venue for cinema, opera, and now as Balsall Heath's Living Room space, as part of the Diving In project.
The reopening was celebrated with 'Specular Reflecular,' an installation by Juneau Projects, which engaged over 500 residents in creating a beautiful animation.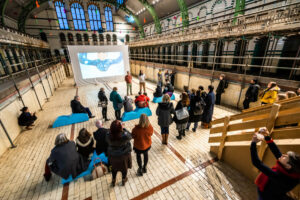 'Make a Splash – The Manager's Flat' – Opening in January 2022
This phase of building work, with a total cost of £838,000 marked the conservation of the façade, the 'Manager's Flat,' and the Boardroom at Moseley Road Baths. The project received significant financial support from the World Monument Fund, Historic England, and Birmingham City Council, all of which are coalition partners of Moseley Road Baths.
As the architects and lead designer of this remarkable conservation project, Donald Insall Associates conducting interior tours, offering the public a glimpse into the beautifully refurbished spaces. These restored areas now enable us to host group such as 'Yoga for All' and 'Chat and Splash,' bringing us closer to fulfilling our commitment to community engagement at Moseley Road Baths.
With funding from Birmingham City Council, the Government Levelling Up Fund, and the National Lottery Heritage Fund supporting this significant £32.7 million retrofit and repair scheme, we are excited to be progressing towards the realisation of this project. In March of this year, Donald Insall Associates unveiled our revolutionary masterplan for both Moseley Road Baths and Balsall Heath Library. Adopting an approach that begins with a comprehensive understanding of their client's needs and user needs, they invited feedback from residents, bath and library users, and the broader Birmingham community on the plans. Their objective was not simply to 'make good' but to 'make better,' which often involved interventions to enhance the environmental performance and resilience of historic structures, ensuring their continued viability for existing and new uses. Donald Insall Associates' philosophy centres on adaption of historic buildings, rather than just preservation, as the key to survival in a changing world.
The plans put forward by Donald Insall Associates will enhance accessibility, making the building more inclusive for all users. This includes the installation of external and internal ramps for wheelchair access, lifts for upper floors, accessible toilets, Changing Places facilities, and baby change/buggy storage. Additionally, there will be limited designated disabled parking on-site with level access.
What truly sets Donald Insall Associates apart is their commitment to the broader community through the sharing of their knowledge and expertise. In June 2023, Donald Insall Architects initiated a mission to engage with local schools, including Queensbridge Secondary School and Park Hill Primary School to support design of the landscape areas.
Design plans for the land at the back of Moseley Road Baths.
The space will become a community garden and growing space by the end of the decade. Students took a tour of part of the building, explored design principles based on the ideals of the charity 'Make Space for Girls,' and were invited to create their own imaginative designs. As well as encouraging the students to choose Design and Technology for a GCSE option, their work will influence the longer-term design plans.
They also offered Conservation Training Days, school design challenges, and collaborated with architecture students from Birmingham City University, all of which played a pivotal role in shaping the future of generations to come. Their dedication to both conversation and the community is one key feature that distinguishes them.
The journey to restore Moseley Road Baths and Balsall Heath Library is not merely about preserving bricks and mortar; it's proof of the enduring power of community, history, and conservation. Thanks to the unwavering dedication of Donald Insall Associates, this historic landmark is well on its way to a vibrant and inclusive future. As we eagerly anticipate Spring 2025, let us celebrate the restoration of these cherished spaces and look forward to the countless memories they will create for generations to come.
Donald Insall Associates are leading a team of collaborators including Artelia ANG (Cost Consultant) Mann Williams (Structural Engineers), Max Fordham (M&E, Acoustic Engineers and Sustainability), Red Bear Landscape, Kiwa (Fire Engineering), Pell Frischmann (Transport), Carter Jonas (Planning Consultant) and Evans Jones (Access Consultant).
references:
Conservation
https://www.donaldinsallassociates.co.uk/moseley-road-baths-conservation-case-study/
Juneau Projects reference
https://neighbourhoodnewsonline.com/specular-reflecular-animation-at-moseley-road-baths-gala-pool/
History of Balsall Heath
http://balsallheathhistory.co.uk/index.php/history-of-balsall-heath/
Donald Insall Moseley Road Baths and Library Public Consultation
chrome-extension://efaidnbmnnnibpcajpcglclefindmkaj/https://www.donaldinsallassociates.co.uk/wp-content/uploads/2023/03/Moseley-Road-Baths-and-Library-plans-and-public-consultation.pdf
Workshops
https://moseleyroadbaths.org.uk/2023/07/06/local-pupils-create-designs-for-the-future/
The Managers flat
https://www.wmf.org/press-release/moseley-road-baths-completed-capital-works-make-splash