We are Moseley Road Baths CIO, a charitable organisation formed in 2018 with a clear and dedicated purpose – to safeguard the historic and iconic Moseley Road Baths swimming pool; we are the only Baths in the country built before 1914 to have continuously hosted swimming since opening in 1907.
We are a community-led charity that is committed to providing swimming, wellbeing, and participation in our Grade II* heritage building.
For over a century, Moseley Road Baths has held a special place in the hearts of  our communities, and continues to do so. We are a cherished community asset, proudly providing services to the diverse and ever evolving communities of Balsall Heath and the city of Birmingham. 
In 2018 Moseley Road Baths CIO, set up by swimmers, local residents, and campaigners, took over the operation of The Baths from local authority management. Moseley Road Baths CIO became part of a coalition, assembled expressly to work towards realising a future that would deliver for the building, the charity, and communities. 
This was the outcome of over a decade of the Friends of Moseley Road Baths  campaigning vocally to keep The Baths open as a public, council owned facility with swimming at its heart.   
About our coalition partners
The coalition is an informal partnership made up of Birmingham City Council, Moseley Road Baths CIO, Friends of Moseley Road Baths, Historic England, World Monuments Fund and the National Trust.
The coalition has come together to identify a sustainable way forward for the Baths. This excellent combination of community knowledge, heritage sector expertise, business planning, connections, and funding has resulted in a blueprint that not only saves the Baths but also creates a sustainable future for us, adding value to our offer with the unity to Balsall Heath library.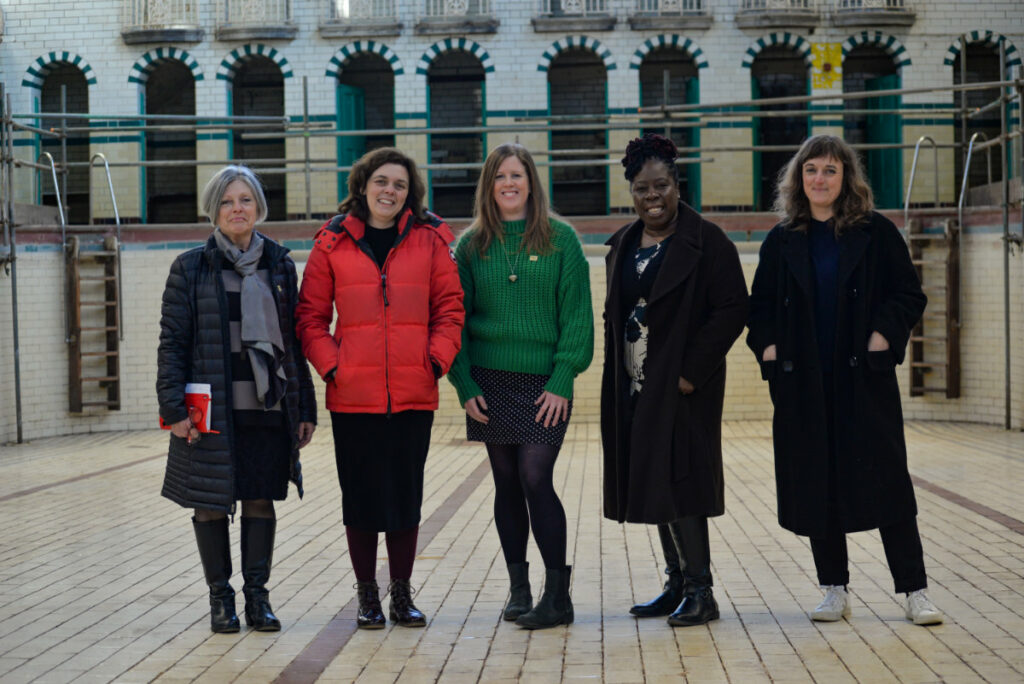 Saving Moseley Road Baths
Since being included in the Heritage at Risk register in 2005, the campaign to ensure that Moseley Road Baths is recognised not only for its heritage value but also for its fundamental importance in remaining a public swimming pool for our communities of Balsall Heath has been extensive. 
Moseley Road Baths is added to the Heritage at Risk register in 2005.
The Baths are the oldest of only five Grade II* listed swimming baths operating in Britain and an iconic element of this part of Birmingham.
We are the only baths in the country built before 1914 to have continuously hosted swimming since we opened.
Friends of Moseley Road Baths (FoMRB) formed.
The Friends continue to exist alongside Moseley Road Baths CIO, focusing as they always have done on involving the public and acting as the voice of local swimmers. FoMRB have  held events and activities such as Open Days, Heritage tours of The Baths and arts events and have worked closely with the CIO. 
Pool of Memories
Heritage Lottery Fund project.

The 152-page book features memories drawn from an archive of almost 100 current and former Baths users collected of over the past three years by members of the Friends of Moseley Road Baths. Combined with this the book contains research tracing the building's development and history dating back to the 1890s.
The Baths were earmarked for closure by Birmingham City Council.
It was announced that nine leisure centres and swimming pools were earmarked to shut as part of Birmingham City Council's plans to save £6.8m. 
Among those earmarked for close is Moseley Road Baths, due to shut in September 2015.
Moseley Road Baths added to the World Monuments Fund's 'Watch List
A Watch Day in October 2016 attracted over 300 visitors of all ages who enjoyed a day filled with activities hosted by the Friends of Moseley Road, celebrating 109 years of Moseley Road Baths. 
June 27th Birmingham City Council agreed to keep Moseley Road Baths open for swimming until March 2018. 
The Moseley Road Baths Coalition is delighted that Birmingham City Council has taken the decision to keep Moseley Road Baths open for swimming until the end of March 2018. 
Read more about this news here 
MRB Action Group formed
Moseley Road Baths Action Group has raised £36,495 to train lifeguards and cover the day to day costs of keeping the pool open for the near future.  An incredible 345 people chipped into an online Crowd funder campaign which raised £17,745 in just 54 days. This has been topped up with a £10,000 grant from the National Lottery Awards for All fund and £8,750 from Birmingham City Council's Community Innovation Fund.
Read more about this news here 
A coalition led by the National Trust is formed to reimagine the future of The Baths with swimming at its core. 
The Moseley Road Baths Coalition is made up of Birmingham City Council, the Moseley Road Baths CIO, the Friends of Moseley Road Baths, Historic England, the World Monuments Fund, and the National Trust.
March, Moseley Road Baths CIO takes over swimming operations from Birmingham City Council.
Read more about this news here 
March, Historic England grants £707,000 for roof repairs to the Gala pool, work begins.
The Gala Pool reopens at venue for community activity and as an event space. 
Thanks to partnership working between community groups, national and international organisations, and Birmingham City Council the Gala Pool is now able to play an important role as an arts and culture venue while its long-term future is decided.
Historic England has so far grant aided £707,000 to Grade II* listed Moseley Road Baths in Balsall Heath, one of its largest grants to a project in the Midlands. This funding has ensured the roof is safe and secure, preventing any further weather-related damage to the pool area, which closed in 2003.
Read more about this news here 
Launch of the National Lottery Reaching Communities funding awarded Communities project.
Levelling Up Fund  awarded £15,538,541 to Diving in phase 1 Capital Works
Cllr Mariam Khan, Cabinet Member for Health and Social Care said:
"I'm so proud of the work done by so many organisations working together to breathe new life into this amazing building, though of course this project has always been about far more than this; it is a real community asset, run by and for local people but open to everyone."
This funding will bring fresh investment and opportunities to the Balsall Heath area.
The future of Moseley Road Baths
The project which includes Moseley Road Baths and Balsall Heath Library has begun a major £32.7m capital redevelopment project to repair, restore and transform these two civic heritage buildings which sit at the heart of the Balsall Heath community in South Birmingham. The capital project is divided into two distinct phases which will take place between now and 2028.
The first phase of works (2022-2025) will bring new users to ancillary areas of the building and address important areas of decay. The second phase of works (2025-2028) will bring the remaining areas of the building back into use and establish a long-term sustainable future for the baths and Balsall Heath library.
This phase of capital work, with a total cost of £657,000, marked the restoration of the façade, the 'Manager's Flat,' and the Boardroom at Moseley Road Baths. The project received significant support from the World Monuments Fund, Historic England, and Birmingham City Council
National Lottery Heritage Fund funded £477,050 for Diving in Development phase
On 2 October 2023 Moseley Road Baths will close for swimming and all other activities, as the next major phase of work to the building starts. This phase is expected to be completed in Spring 2025.
Works include further major roof repairs, the installation of a new renewable air source heat pump that will replace the steam boilers, installation of level access ramps, the introduction of a café space in the 'second-class' slipper baths, reinforcement works to the basement, and the remodelling of Balsall Heath library, including the introduction of a mezzanine floor which will double the space for library users. This is an exciting moment for the future of both The Baths and the Library and represents a significant investment in these beautiful and much-loved local spaces.
Diving in Phase 1 capital works complete.
Phase 2, Diving In, aims to deliver a £14.5m investment for the complete restoration, conservation, and adaptation of the historic building. This will effectively remove its 'at risk' status, with the focus on reintroducing swimming to the Gala Pool, repurposing the second-class pool (Pool 2), and re-establishing all other areas of the building for complementary and income-generating purposes.

Integral to the Diving In initiative is an organisational development process, ensuring that the CIO (Charitable Incorporated Organisation) is equipped and confident in managing new activities, handling larger budgets, catering to a significantly larger audience, and achieving sustainability. Accompanying this project is a creative, inclusive, and life-enhancing programme of community engagement, supported by thorough community consultation and the piloting of various activities.
The Gala Pool
The conservation will encompass the preservation of the pool tank, balconies, terrazzo floors, timber cubicles, and benches, along with measures to shield the historic structure from chlorine damage.
Pool 2
The restoration will prioritize conserving the cast iron frame and repairing glazed bricks while removing modern elements. After draining, the pool will be floored with timber, creating a flexible space for events.
The women's slipper baths
transform into wellbeing/therapeutic spaces, utilizing original divisions for diverse services. A discreet space will host showers, sauna, reception, and a shop.
Helps us to create an evidence based and tailored programme for existing and new audiences. …